Asia report: Most markets lower as Moody's cuts rating on Hong Kong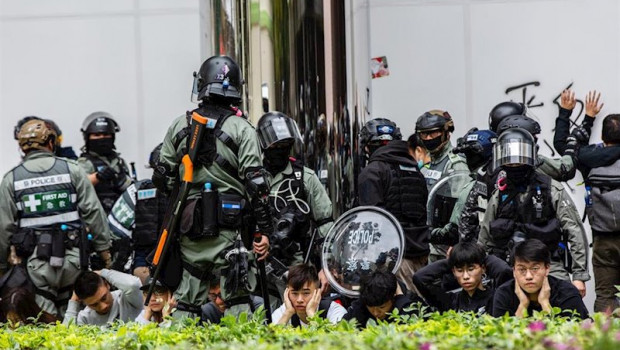 Markets in Asia were mostly in the red on Tuesday, led lower by stocks in Hong Kong, after Moody's cut its rating on the city.
In Japan, the Nikkei 225 was down 0.91%, as the yen strengthened 0.16% against the dollar to last trade at JPY 110.00.
Technology conglomerate SoftBank Group managed gains of 0.18%, but among the benchmark's other major constituents, automation specialist Fanuc fell 1.55% and Uniqlo owner Fast Retailing lost 1.36%.
The broader Topix index was 0.53% weaker by the end of trading in Tokyo, closing at 1,734.97.
Investors had their expectations sated by the Bank of Japan during the day, as it kept its short-term rate unchanged and -0.1% and also stood pat on its government bond yield target at 0%.
The central bank said that Japan's economy was "likely to continue on an expanding trend" through 2021 in its outlook.
On the mainland, the Shanghai Composite was down 1.41% at 3,052.14, and the smaller, technology-heavy Shenzhen Composite lost 1.28% to 1,806.54.
Concerns about the outbreak of coronavirus in China added to the general downbeat mood in the region, after authorities there confirmed that it can spread between humans.
South Korea's Kospi was off 1.01% at 2,239.69, while the Hang Seng Index in Hong Kong slid 2.81% to 27,985.33.
Both of the blue-chip technology stocks were weaker in Seoul, with Samsung Electronics down 1.6% and chipmaker SK Hynix off 0.6%.
Ratings agency Moody's lowered its rating on Hong Kong overnight, to Aa3 from Aa2, and changed its outlook to stable from negative.
The move follows months of political protests in the special administrative region, which have often descended into violent clashes between pro-democracy demonstrators and police.
Life insurance firm AIA Group was down 3.42% by the end of the day, while Chinese technology giant Tencent Holdings lost 2.68%, after chairman Pony Ma sold HKD 2bn worth of shares, according to reports.
Investors were also digesting the latest growth forecasts from the International Monetary Fund, which were released overnight in Asia, in which it cut its expectations for 2019 and 2020 to 2.9% and 3.3%, respectively.
"The projected recovery for global growth remains uncertain. It continues to rely on recoveries in stressed and underperforming emerging market economies, as growth in advanced economies stabilises at close to current levels," said IMF chief economist Gita Gopinath.
Oil prices were lower as the region went to bed, with Brent crude last down 1.18% at $64.44 per barrel, and West Texas Intermediate off 1.22% at $58.05.
In Australia, the S&P/ASX 200 was 0.19% weaker at 7,066.30, while across the Tasman Sea, New Zealand's S&P/NZX 50 went against the regional trend, rising 0.5% to close at 11,805.14.
Both of the down under dollars were weaker on the greenback, with the Aussie last off 0.23% at AUD 1.4583, and the Kiwi retreating 0.15% to NZD 1.5150.